SOFTWARE LICENSE
With the HANDELSFAKTOR software, you turn your POS terminal, PC, tablet or laptop into a modern and high-performance total solution for retailers:
- POS system
- online administration
- merchandise management
- ordering system
Included is an offline version, which ensures the internet-independent operation of the cash register on certified devices.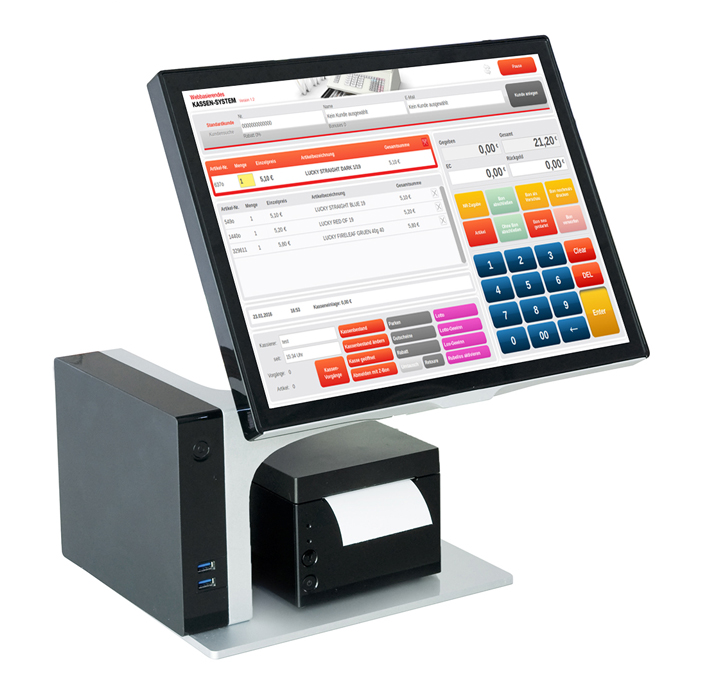 50,-
per cash register/month*
*Minimum period 60 months
The following expansion modules are already included and can be activated for you if required:
Branch manager
Customer database
Bonus system
Customer card module
Customer account / e-commerce base module
Voucher / prepaid module
Several cashiers at a cash register
Foreign language module
EXTENSION OFFERS
If you require additional software services within the framework of an existing cashier contract, we can make you the following offers on your own account:
Additional interface
/one-off data import
Creation of a customers' individual (not already supported) interface to MDE, inventory management, online shop, etc.
Interface according to effort -
(Hour 65,- €)
Data import once approx. 195,- €
Direct marketing / newsletter module
The customer database is the basis for a modern and comprehensive direct marketing including template manager and success evaluations.
monthly 10,50 €*
Payable quarterly in advance; minimum term 12 months.
Customer cards
Card costs (modules work even without cards).
1.000 Barcode cards: 519,- €*
2.000 Barcode cards: 832,- €*
4/4-color, high-quality printing in your individual layout
Time and attendance
Collection of cashier working hours, working time reports, export for personnel system.
once 195,- €
Online store interface
Setup data comparison with online store
once 260,- €
Inventory App
Use your smartphone for mobile data collection.
per app / device, monthly 4,50 €*
Payable quarterly in advance; Minimum term 12 months
Store surveillance
Optional automatic sending of notifications for adjustable alarm indicators. Assist with theft by your own staff: detailed logging of cancellations, drawer openings, canceled payments, and more; interface to external video surveillance.
once 195,- €
Expansion modules for mobile charging (online cash cards)*
With this expansion module, the cash register can retrieve the PIN codes for recharging prepaid phones online. You do not need conventional plastic calling cards or separate terminals. The PIN codes are only retrieved at the time of sale and printed on the POS printer.
monthly 10,50 €**
Currently running provider contract necessary.
Payable quarterly in advance; minimum term 12 months.
Expansion module
Description of the expansion modules included in the basic license:
Customer account / e-commerce base module
This module extends your customer database with the ability to manage customer accounts. You can manage both prepaid accounts, which the customer deposits in advance and then debits, and real credit accounts, which are billed on a monthly basis. As an additional payment option, the invoice sale is available. Customers can view their sales, delivery notes and invoices and, if necessary, pay online.
The customer database always gives you detailed information about your customers. Get real-time, up-to-date analysis of all purchases you can use for customer-facing marketing.
With the bonus system, your customers collect bonus points with each visit. Use this effective marketing tool to motivate your customers to higher sales or more visits. You can personalize your personal bonus system with different parameters. Your customers earn bonus points for each purchase or variable point system per visit or revenue-based.
Manage your stores and manage the optimal ordering and warehousing structure for your business.
Management of loyalty cards.
Issuance and management of prepaid prepaid cards.
Several cashiers at a cash register
User change by pressing a button, login or employee card. Up to 4 cashiers are possible.
Do you operate your business abroad or do you have foreign-language employees? With this module, your program will appear in a different language. Own translations are possible.